here we go, mass update from the beginning
He's been with us for just about 17 yrs now (was the wifes 18th birthday present) and has changed a bit over the years.
He started as a stock 85 Ctiy E (one of the very last to have a centre speedo) which during the 1st 4 yrs we had him he had 3 2nd hand 998s fitted. his paint was getting pretty flat (and had cracked on the roof) and a door and A panel where starting to bubble, so the 1st rebuild went underway. In 4 weeks I fitted a new BMH door/A panel, resprayed him in tarten red and had a friend build up a rob walker 1014cc bottom end and a stg1 kit. Coupled this with a Italian job interior and a Mk1 grill some chrome handles and bumpers he was looking good again
Sadly he then had to go into storage for a year (brought our 1st flat and only space to park my MPI cooper), but with our wedding looming, I decided that I wanted to arrive in Pootle. So he was dug back out, new rear subframe fitted, hi-los and GAZ shocks, set of 10" reverse rims (and 7.5" S brakes + super minifins) and he was ready to take me in style
I then used Pootle for fun and a couple of sprints and trackdays after fitting stg3 head and swapping the RC40 for a maniflow (made 62BHP, was well chuffed)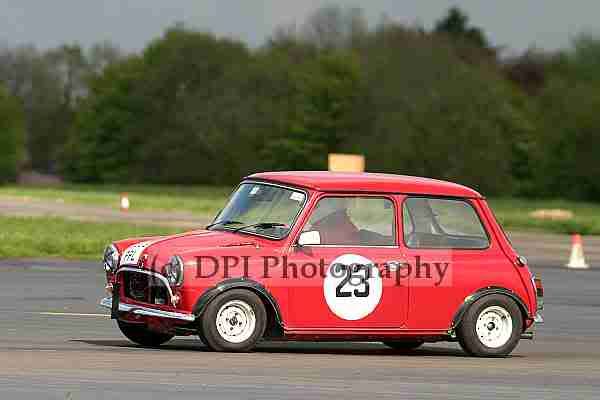 And was also used as my daily for a bit.
But then got Perkin to restore and he was parked up again, stirpped of his engine (went in Perkin) and the interior and sat in a corner of a Pickmeups lockup for a couple of years
Then got the itch for a track car again, so he was rebuilt again, this time with a 91 BHP 1275 (with a webber 45 )and a satin black paint job
The following year, I changed the look again with some red matalflake
Then embarked on the Vaux conversion (2.0 8v)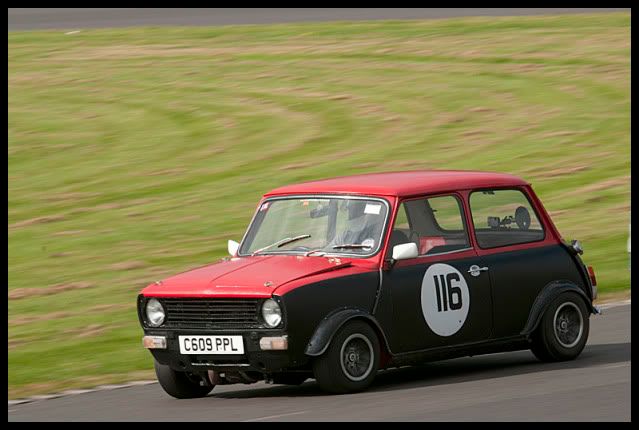 Which was a really nice conversion, but I soon decided that for Pootles long term (for home manitance and future legislation), A series was the way forward so another rebuild was required
so 1st job was to remove the vaux conversion
then bolt in a 'new' front subby and weld the new front end on
repair the hole where the vaux gear linkage box went
and weld in some 'new' inner wings
[img]http://i14.photobucket.com/albums/a314/craig1010cc/pootle%202010%20rebuild/innerwing1.jpg[/img]
He breifly sat on these as well,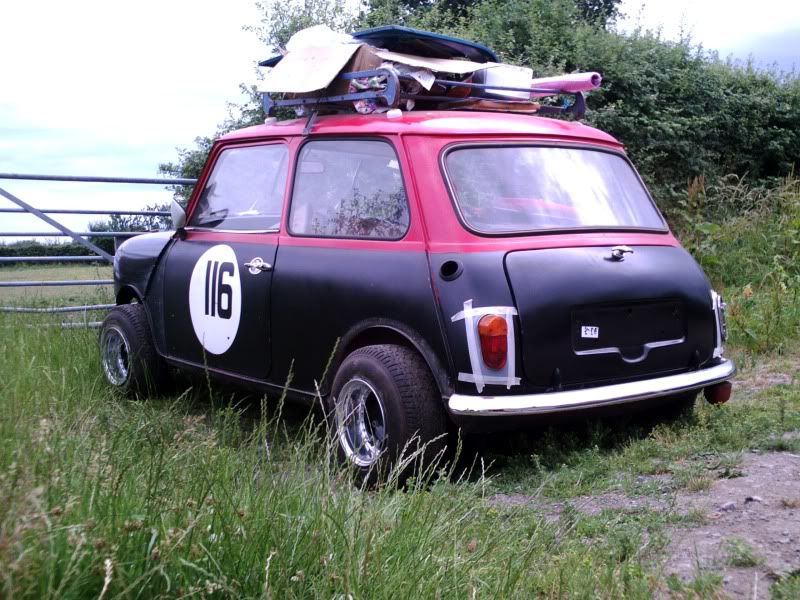 but they had to go :thumbsup: (but I think I prefer him on reverse rims anyway)
And that was where I got upto by summer 2010. Then lost all enthusiasm for him and he sat in the lock up
Decided that it is time to get on and get Pootle back on the road as he has sat tucked away in the back of the lockup untouched for 10 months.
1st job was to collect a 'new' front subby to strip, repaint and rebuild. Its now at the point that it is a bare frame waiting for a degrease
Then it was time for a swap round in the lockup so that I can get good access to Pootle over the next few weeks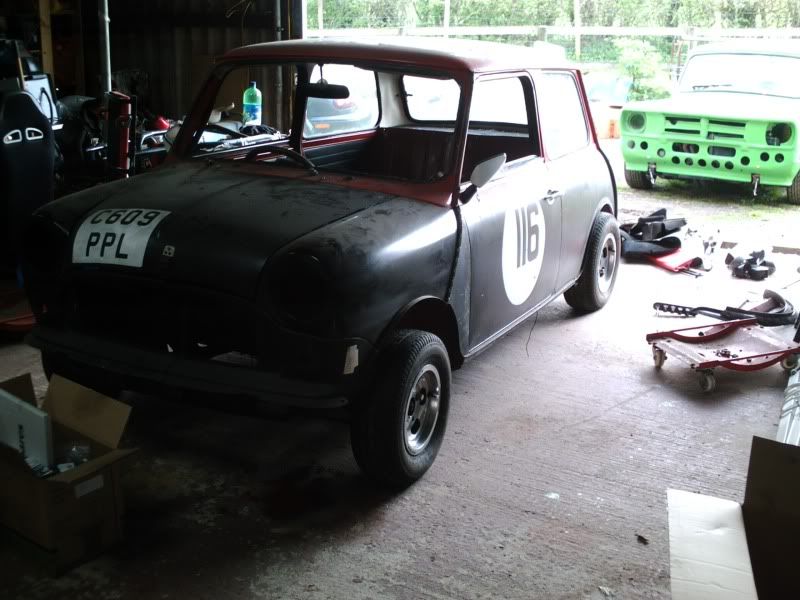 Next job up was to empty out Pootle of all the parts I have been gathering for the last year and to then sort them out into boxes that had some sort of logic to what was in them (and what stuff was no longer needed)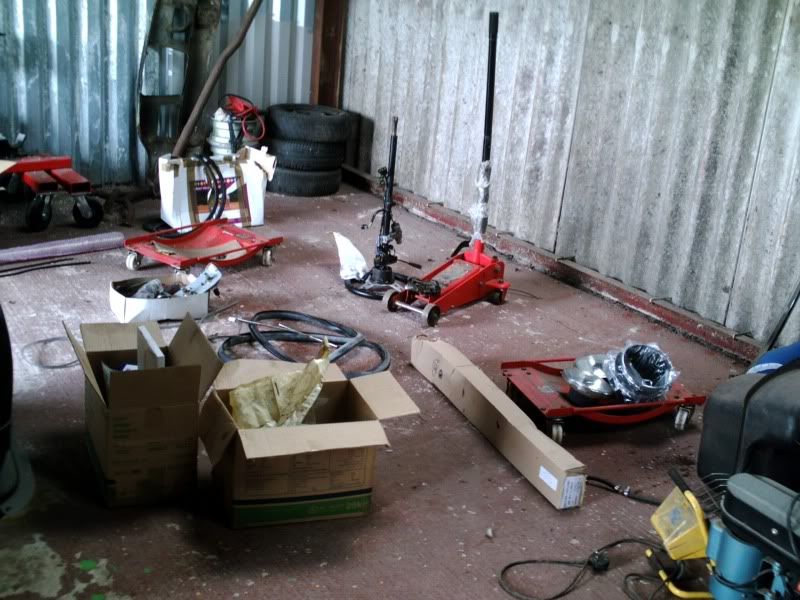 Then I decided that the remaining windows needed to come out at some point so it may as well be today. then pushed him outside into the sun (for the 1st time in 10 months )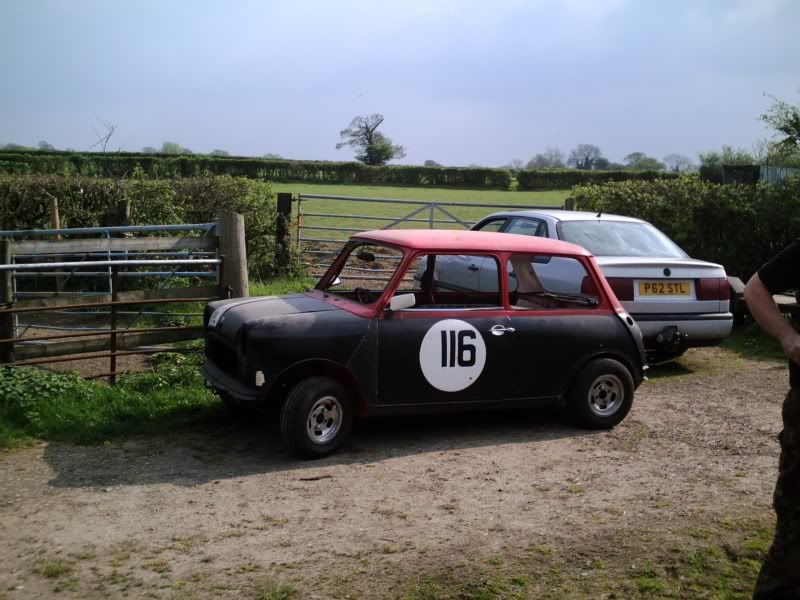 The 'new' front subby is now painted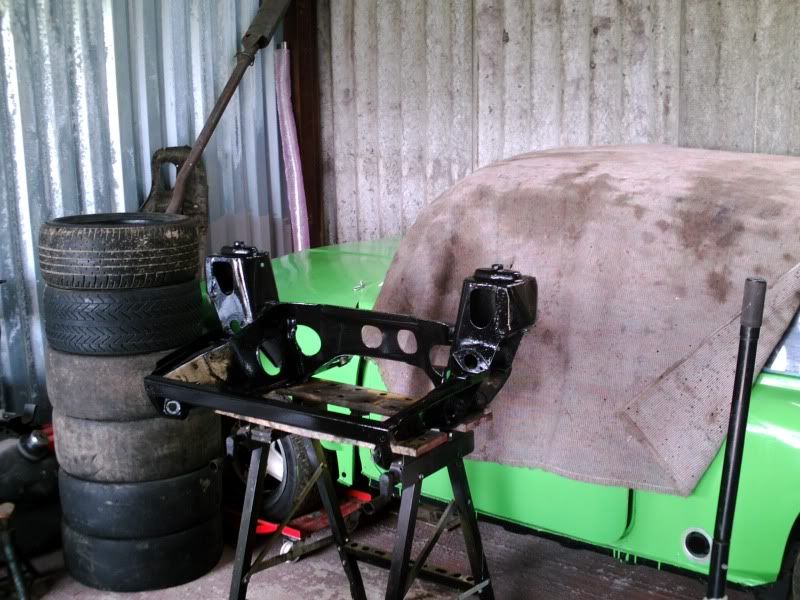 so should be ready to be built up tomorrow (finally get to fit my -1.5 arms :P)
Then whilst the paint was drying, time to continue the dis-assembly. The doors, boot and bonnet are now stripped bare inc removing the race numbers that have been on the doors for about 7 years
as you can see, I masked them up when I did the satin black paint job but I think the red door circles work quite well
I also cracked on with stripping the scuttle and the anything un-boltable
Then started to prep the inside of the doors and got the 1st coat of grey onto them. Will need more practice and coats to get a good finish though, but its getting there (plus I think I over thinned the paint as well)
The doors have 2 coats of paint on teh onside face, and aren't looking too bad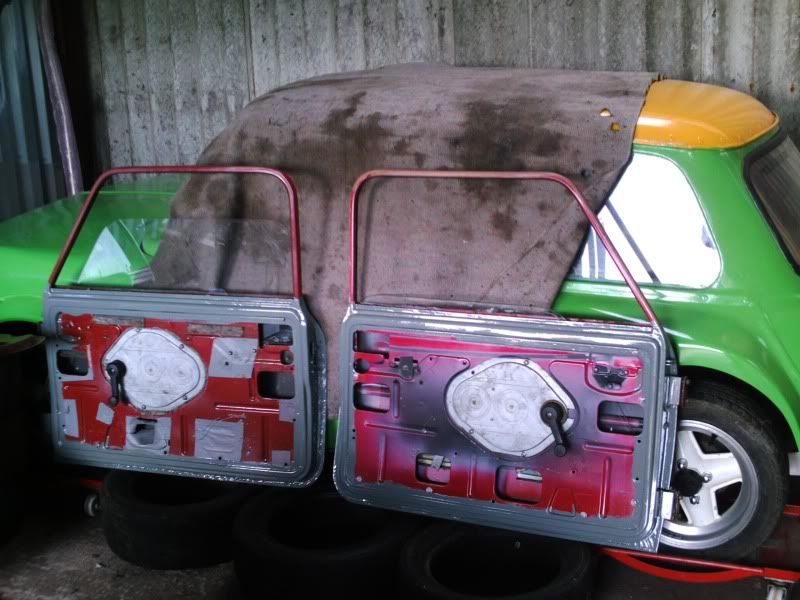 (the upper frame will be painted when I paint the outside)
The subframe is 1.2 rebuilt (awaiting a new bump stop before I can put the 2nd doughnut, hi-lo and top arm in). Spent an hour in the sun today trying to slavage a bumpstop from a mk1 subby only to find out that they are different
But then it was time for the old subframe to be removed so that I could get ready for the final welding on the wings and then will be able to prep and paint the engine bay
And with the subframe out. the rack can be removed and the bulkhead fully stripped
Then the lovely job of stripping off old underseal/oily mess
Well, the welding and grinding on the front end is now completed. Had to spend a bit of time getting the settings on the welder right (1st couple of welds weren't that good), but with the power turned up, the welds where good
So then on with the messy business of degreasing the engine bay Not a fun job, but with that completed i could crack on with final prep. It is quite a difficult area to prep, but got there in the end. So it was time to brake out the paint again Used about 15% thinners, and although it seemed a bit thin, 1st go with the rollers and it was going on nicely
So, 1st coat is now on, 2nd (and final hopefully) will be going on Tuesday so that I can get the new steering rack in and the new subby lifted back in to make the shell rolling again to push outside for final prep. Still lots to do before the paint goes on mind
The engine bay looking nice with its 2nd coat all hardened off
and the bootlid out in the sun to harden off bit (few imperfections that I want to resolve before the 2nd coat goes on)
So todays progress, 1 job was to paint the inner wings/ underside of the wings/front panel. What a pain of a job that was (not to mention painful as I headbutted the wheel arch a couple of times whilst trying to get into the right position to get the paint in the to tricky bits leaving a few slices across my head )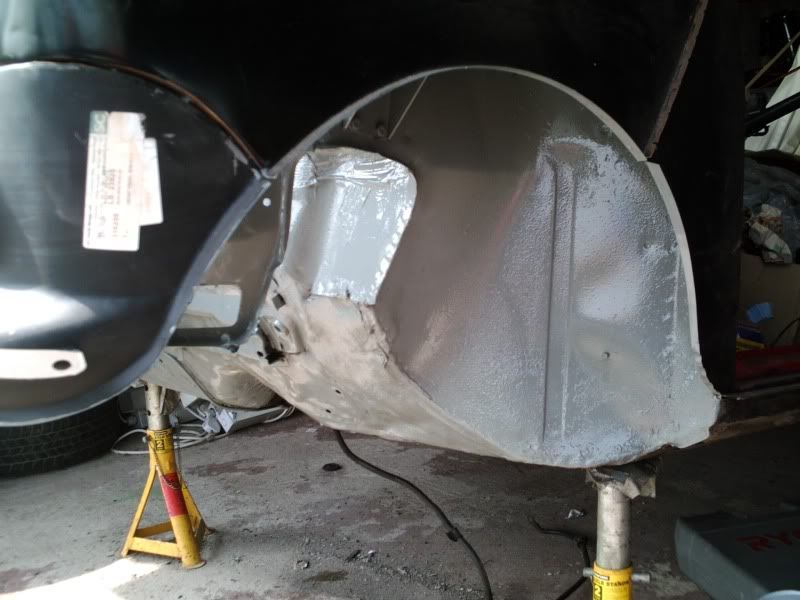 Also called into Moss this morning to get the bumpstop and a couple of other bits. This meant I could crack on and finish building up the front subframe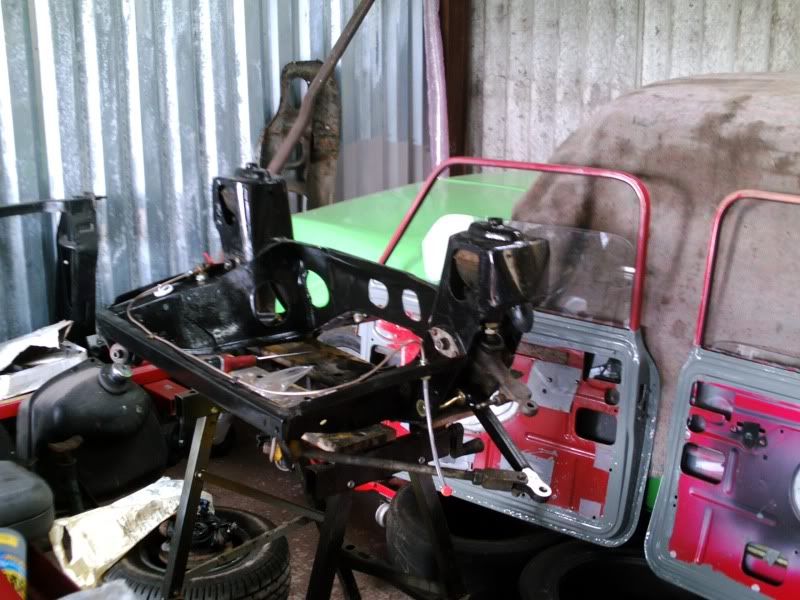 So on with building up the mechanicals. Next in was the new rack. what was annoying was that even though I brought a brand new rack and a pair of track rod ends, neither come with the locking nuts so I am going to have to salvage them from the old rack
Getting the new rack in too a bit of gentle coaxing with the mallet, but was soon enough bolted in
[img]http://i14.photobucket.com/albums/a314/craig1010cc/pootle%202010%20rebuild/rackin.jpg[/img]
Then time to refit the subby. Went in very smoothly (for once)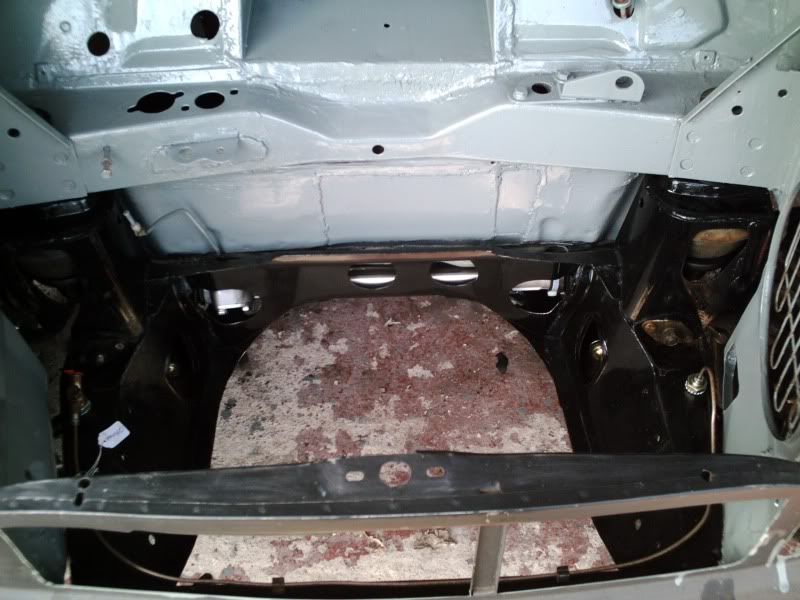 And then time to drop back onto all 4's again
so not a bad days work. Bit more welding to be completed (got a small patch in the boot floor to go in) and then it is time to prep the shell for paint